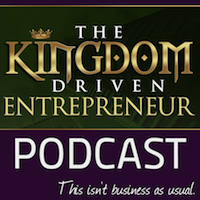 Today on The Kingdom Driven Entrepreneur Podcast we're welcoming back Sue Miley, a Christian business coach and professional counselor with CrossRoads Coaching.
Sue has experienced significant growth in her business over the past few years, building debt free, hiring employees, and recently took a big step and acquired much needed expanded office space. We wanted to dig in and get the details on how she prepared and positioned for the growth, kept the faith, and overcame obstacles.
Sue shares the ups and downs of her journey quite transparently and provides some key advice for others who are believing God and working towards a breakthrough in growth in business.
Right click here to download the MP3
If you have any questions you would like us to address on this topic, we encourage you to submit them here!
Mentioned in This Session:
Subscribe to us on iTunes or Stitcher to make sure you never miss an episode! We greatly appreciate you taking the time to rate or review or podcast on these platforms as well! It really helps us to get the message of Kingdom Driven entrepreneurship to other potential listeners across the world. Thank you!
Source: Kingdom Driven Entrepreneur