Hello everyone, here is another great podcast from Kingdom Driven Entrepreneur!  Click the link below to listen.
Listen Here ==> KDE Podcast 088: Small Shifts Create Big Business Breakthroughs
Source: Kingdom Driven Entrepreneur
Today on The Kingdom Driven Entrepreneur Podcast we're welcoming back best-selling author and sales coach Leesa Renee Hall and we're talking about how small and simple shifts can create big breakthroughs in your business.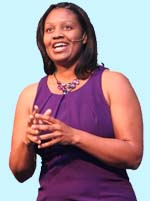 What do you do when things just don't seem to be working? You think you're following the call of God on your life, but it just feels hard?  We explore these questions and more today as Leesa shares her personal business breakthrough story.
Listen in and enjoy as there are plenty of laughs and "aha" moments in here.
Right click here to download the MP3 (Episode length: 34 minutes)
If you have any questions you would like us to address on this topic, we encourage you to submit them here!
Podcast Sponsor: Sonja R Jones and Worship Builders
Mentioned in This Episode: